Online Calculators > Math Calculators > Volume of a Cube Calculator
Volume of a Cube Calculator
Volume of a Cube Calculator to calculate cube volume. The volume of cube formula is shown below on how to calculate volume of a cube.
Cube Volume Result

3.375

Inches&sup3
Feet&sup3

55.30634

cm&sup3

0.00007234

Yards&sup3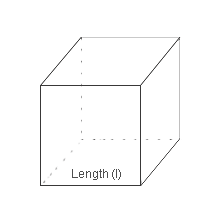 Volume of cube formula
Volume of cube formula is V=Length&sup3. A cube is three dimensional object similar to a rectangular prism but has all equal surfaces and sides. It has 6 equal square surfaces and 8 equal vertices.
To find the volume of a cube, we need to calculate its area of square base first which is A=length×length, and then multiply by its length.
Since a cube has all equal length, the formula is written as V=Length&sup3.
How to calculate volume of a cube
Following is how to calculate volume of a cube with length 5,
Volume = 5 x 5 x 5 = 125